Welcome to Alma Terra Nutrition, offering the convenience of online, personalized dietary consultations.  Alma Terra Nutrition is headed by Josephine Beck, Certified Holistic Nutritionist and health coach. Josephine is French and her nutritional programs include healthy tips à la manière française (the french way) !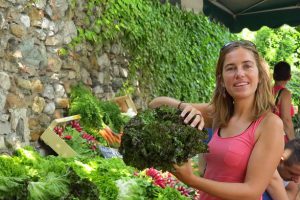 Hi! I'm Josephine. I'm passionate about nutrition and its impact on health. This is why I've created my private holistic nutrition practice Alma Terra Nutrition. Alma Terra, derived from Latin, means "Nourishing Earth."
Native to northern France, I moved to Canada when I was 24 years-old. In fact, the story of Alma Terra Nutrition began when I became a dietary supplement consultant for a Canadian health food store. I've always enjoyed tasty food and cooking balanced, delicious dishes with fresh foods. My desire to learn about nutrition was growing… At that time, I was also struggling with a skin issue. It was the start of my healing journey.
In 2009, I launched Optiderma.com, a website providing well-researched natural skincare and health advice. Based on my own experience, I've seen how lifestyle and dietary improvements can ease the symptoms of skin problems. I wanted to share what I've learned and help people relieve skin issues via natural means. I became a skin expert – especially in the management of psoriasis and eczema.
Then I took a 2-year holistic nutrition counselling course in Canada. I'm a graduate of Alive Academy, accredited by the Canadian Examining Board of Health Care Practitioners and I stay current with nutritional knowledge via ongoing education and training.
For years, I've been especially interested in digestive well-being. Increasingly, studies are showing a link between vitality and beneficial intestinal flora. Knowing the benefits of cultured foods, my kitchen is always stocked with homemade sauerkraut, kimchi, or fruit kefir! I now specialize in gut and women's health.
I work with people via Skype, so anybody can benefit from my services. Through online video conferencing, you can meet me no matter where you live! We can communicate in either English or French since I speak both languages fluently. I include french healthy tips in my nutritional programs.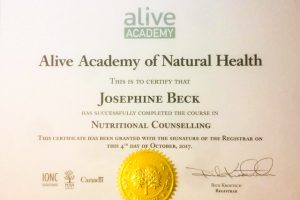 "Food is the basis of our health. Our healing journey begins on our plate!"
This is so true! Optimize your nutrition and you'll achieve vibrant health!
If you're ready to begin your healing journey, connect for a complimentary 15-minute session with me. We'll discuss your health concerns, and I'll tell you how I can help. See you soon!